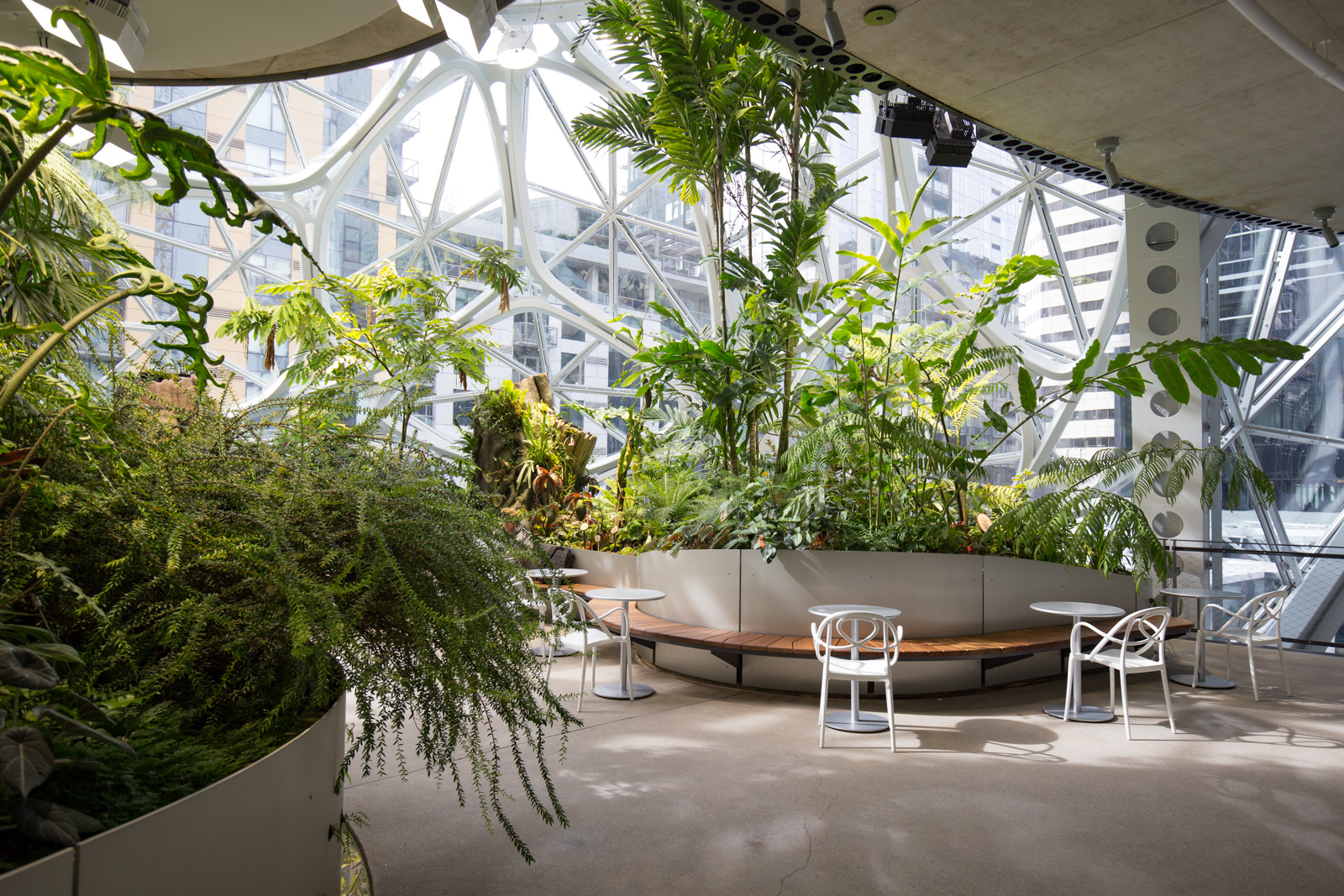 Inside the Amazon Spheres
Today I finally got the chance to go inside the new Amazon spheres - I've been watching them go up for ages now, and I was really worried we would be gone by the time they opened them up, but nay! I met up with Matt and a couple friends for lunch, and visitor badges were procured so I could check the place out.
Honestly, these things are pretty cool. Walking in, the lowest level feels not dissimilar to a botanical garden - there are trees and greenery everywhere with little identifying signs, there are aquariums, and even little terrarium boxes on the walls holding single plant species. The hum of people talking and working is largely obscured by the constant white noise of gentle misting machines and some unseen, larger water feature trickling away.
As you climb the levels (I think there were five? Maybe four?) the vibe ebbs and flows - you're in a well-lit, Instagram-worthy cafe one minute, while next you find yourself in a plusher section that feels like a chic urban hotel lobby. The natural greenery finds a contrast in the concrete floors and walls, and exposed steel frames the stairways and open walkways. All the while, tables and chairs are hidden in leafy alcoves, or lined along the curve of the outer glass walls, providing ample space for lunch gatherings, business meetings, or just a zen working environment.
There are creative, sometimes strange touches scattered around the space as well. One area features a wooden walkway suspended above a section of botanicals, wrapping around a large central tree. In addition to a platform with table and chairs, the walkway features a curious round, wooden seating platform, dubbed "the nest", with an almost woven look to it. Another odd area we came across was on the top level, where lounge chairs were arrayed in a semi-circle under a low section of the bubble glass ceiling, a cross between a sun room and a space pod.
What struck me most of all was the light. There was just so much of it, it was glorious. The whole place is a glass-covered sphere, so that in itself shouldn't be all that surprising, but this is Seattle, and it has a fair amount of grey days. But inside the spheres, the outdoor light streams in, and aided by plenty of artificial light the whole place feels bright and airy, and incredibly relaxing. (It's also a balmy temperate climate in there all year round, because of the plants. Not too humid or anything though - just incredibly pleasant.)
All in all, it seems like a useful recruiting tool - I kind of wish I worked for Amazon in Seattle, just so I could work in this bright, pleasantly designed sphere filled with the white noise of water misters and vibrant foliage.
(There's also a steady supply of coffee available - the spheres feature another location of General Porpoise, the delicious doughnut shop from local chef Renee Erickson. I couldn't resist a vanilla custard doughnut after our lunch, they're just too delicious.)